High rises to high real estate prices, bollywood to financial capital, crowded trains to ganesh festivals, big business houses to being a cultural hub, dharavi slums to colaba causeway...queens necklace to juhu chowpatty and best malls to street food. This city has it all...Mumbai as its called the city of dreams....
I was thinking as to what should be my next post, and was determined to write something about the city, I came across an interesting article on street foods. The article spoke about 10 best places to eat in mumbai....and thought why not put together a post on the-best-food-places-I-have-visited-so-far-in-mumbai...or rather not-to-miss-the-best-eat-out-places in mumbai....or rather...every-mumbaikar-should-know-these-places...lol...so if you're a true Mumbaikar, I'm sure u must have not missed any of the places listed below...:)
Brun Maska and Bread pudding @Kayanis
Although there are a lot of Irani restaurants in Mumbai, but Kayanis is Kayanis...Brun maska chai and bread pudding is one meal that you cannot afford to miss here. This is one of the most popular hangouts after college hours. Its located

Opposite Metro Cinema,

Marine Lines.
Courtesy: zomato.com
Fish @ Apoorva, Gomantak, Mahesh Lunch Home, Gazalee or Jaihind lalbaug
Its a never ending list...all these places offer a platter of delicious sea food, each one different from the other and the taste also differs from restaurant to restaurant..to your delight...Goa Portuguese should be the icing on the cake. Dont miss any of these if your craving for seafood on a lazy Sunday afternoon. Gazale and Jaihind are located around Parel - lalbaug, Gomantak at Dadar and Apoorva , Mahesh Lunch Home at fort..Goa Portuguese at Mahim.
Green masala pomfret at Goa Portuguese, crabs at Apoorva, fish fry at Gazalee, stuffed bombay duck with prawns at Jaihind...ar some of the not to miss dishes...:)
Sandwich stall outside HR college
If you're in a hurry and looking for a quick bite, the sandwich waala outside HR college is the best,fastest,easiest and cheap option for one...He specializes in rolls, pastas and pizzas...his pasta pizza, pasta rolls and pasta sandwiches are some of the preparations to look out for...
Crystal@ Chowpatty
A small and mini lunch home, popular amongst corporates and located just next Wilson college at chowpatty..simple dal fry, rice, roti sabji with rice kheer and custard...I'm sure u can't get a proper meal for less than a 100 bucks anywhere else in Mumbai!!!
Bachelors @ Charni Road
Walk a bit ahead of crystal...and you are at Bachelors...located right outside charni road station ..ferrero rocher milkshake, oreo milkshake or plain fresh juices...u can get anything and everything liquid (only juice I meant!)...if you're at your friends place for a night out and plan to go for a long drive at marine drive, then don't forget to drop in at Bachelors and treat yourself to the best sweeteners ever!
Stadium restaurant outside churchgate station..
This place has been running since ages...bhuna chicken, kheema and butter chicken, biryani dishes are the ones to die for..again a cheaper source of food, tasty and filling....a must visit place...:)
Rustomjee Ice Cream - Courtesy Zomato
Right across the road, opposite stadium restaurant is our very own Rustomjee...the biscuit ice cream is its USP and still stands unique inspite of the competition..do try their seasonal special ice creams...mango and anjeer are their specialities...:)
5 Spice!!! I think its like a family resto for me now....if you're planning to treat your friends then 5 Spice is the place..sufficient quantity, great food and pretty reasonable. Mongolian pot rice- the patent dish enjoyed by all :) Its located at fort, andheri.
Sarvi at byculla...
A meal at Sarvi doesn't count unless you've feasted on their seekh kebabs along with their mint chutney and onion rings. This place is located right opposite to nagpada police station under Dawood Nursing home(the name says it all).
Shalimar restaurant has to be there on your list. The Yakhini pulav @ Shalimar, Bhuna chicken and Ran Biryani are the best selling dishes. Its like a finger licking good food..that makes you happy at the end of the treat.
Mohammed Ali road, is the place to joy some non vegetarian street food. The street is all lit up with scrumptious food including kebabs, malpuas, chicken, mutton and beef preparations during Ramadan. You just can't afford to miss a visit to this place to treat your taste buds.
If u are a sizzler lover, Kobes is the place for you..You have a variety of sizzler options to choose from Chicken shashlik is the best one tried so far.....the chowpatty branch is the one for me:)
Leopolds...the place u can never miss when you visit colaba...try their prawns and chinese food....I think its one of the best I have tasted so far..Leopold's special pasta..is their signature dish, you can try this with prawns, chicken or veg preps. Also a great place for beer lovers.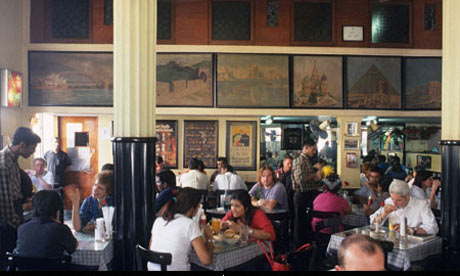 Bade Miyaan...if ur out at 2 am
, feeling hungry and want to grab a meal...just drop by at Bade Miyaas..seekh kabab with baida roti is the dish for me.. Its the mosy busiest and crowded resto...you can simply relax in you car and the food will come to you.
Sardar pav bhaji...the tastiest pav bhaji centre located in SOBO.... You can see your pav dripped in half kg butter along with another half kg over the plat
e......its open up to 2 am....
Haji Ali Juice centre...another crowded and popular place for fresh juices and some sandwiches...
If ur really looking to have for some good chinese, Mainland China is the place to be....They have the best chinese in town.....the food is just sufficient, light, tasty and easy digestible...a must visit place...its located all over Mumbai!!!
Sion lunch home...don't miss the fish thali here...just perfect if ur on the go...:)...prawns koliwada and fish fry...its simply yummy....
Delhi Darbar, our very own biryani special place...I can swear on their Biryanis, have never tasted any better biryani than this (except Mother in laws homemade biryani, its also the one i never miss eating)
Candies at Bandra...finally I moved out of SOBO...their salad buffet is the most filling plate..besides their fruit tarts and other confectionaries.
Apart from the ones listed above, you can try Casa Soul fry another fish place, Silk Route for chinese, Britannia- cherry spl pulav, the Food Inn, Piccadilly for some lebanese treat, Woodside inn, Gokuls - right opposite Bade Miyaas, Alps @ colaba, Pizza by the Bay, Gaylord @ churchgate the kulfi centre at chowpatty and many more places..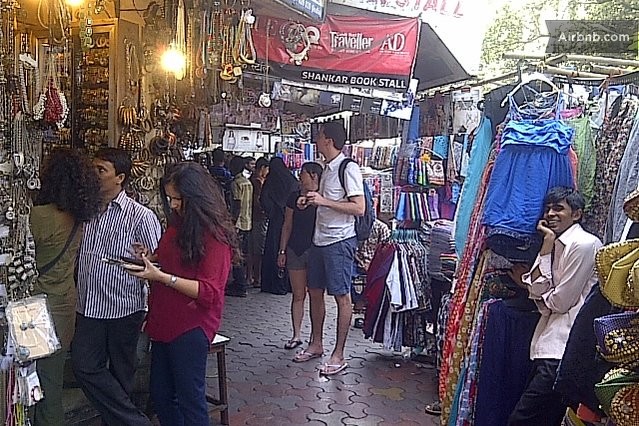 This isn't an exhaustive list...but definitely a starting point.. So if you haven't visited any of these before, get up and get going .... till then ill come up with another not-so-famous-yet-tasty-places-to-eat-in-Mumbai list :p
Yummy reading!!!!
Priyanka
Courtesy: Pics have been taken from google images, zomato.com and various sources.